Ready-to-wear garments are often "good enough". However, should you be a more discerning customer, have unusual proportions or just wish to try a more personal fabric, Made-to-Measure makers step in. Be it asymmetrical shoulders, long arms or some other similar fit issues, or simply the wish for a better fitting garment a knowledgeable Made-to-Measure expert shall address this with precision.
Naturally, even if the ready-to-wear garment – a shirt, for example – fits you well, there definitely are certain points that can be improved. The ready-to-wear shirts and suits tend to have some aspects that deviate from the plain average. For example, armholes and waist measurements tend to be be larger than usually needed to accommodate the widest possible amount of personal proportions. For the same reason, cuffs and shoulder widths are almost always rather excessive. All these issues are easily corrected in a Made-to-Measure process.
The Made-to-Measure process.
Having something made specially for you has other benefits, that just choosing a garment off the peck cant adress. For example, your stylistic visions on fabric, colours, collar/cuff shape and whether to add a personalization in the form of a monogram or not.
With a skilled clothier, the fruitful conversation is also a part of the process. The professional can ensure that the creation is both tasteful and to your liking. Even if you only have a hunch about the idea you wish for, the knowledgeable professional can distill it into a complete product that has the fabric, fit and style that suits you and the occasion you wish to wear the shirt for.
E-F-V offers Made-to-Measure shirts that are measured by a seasoned professional, made from a wide selection of fabrics that are manufactured by the finest European mills and finally sewn carefully to your exact measurements. As a result, the fit, durability and look fill the requirements of even the most demanding customer.
The E-F-V Made-to-Measure shirt service is available at E-F-V & Friends Trunkshows, in our showroom by request and on location for groups by appointment.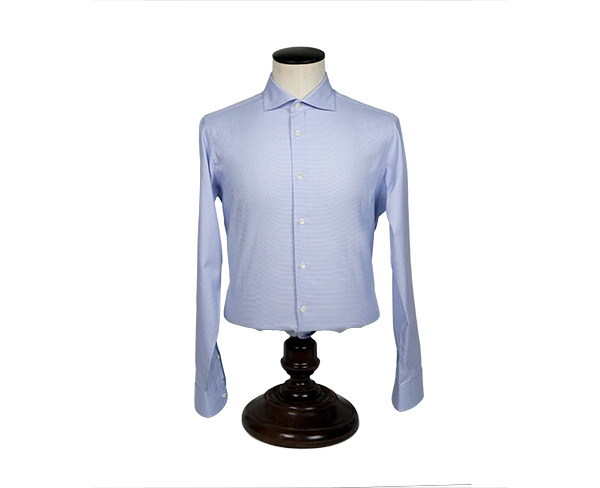 Shop Made to Measure ➤